Origalys: Who are we?
---
THE STORY :
OrigaLys was founded in 2010, by R&D Engineers coming from a famous French Manufacturer (Tacussel and Radiometer Analytical) of Potentiostat, Galvanostat and Impedancemeter (EIS), based in Lyon, France. It's started within a business incubator Cap Nord.
Our goal is to propose to the customer "design" products with an affordable price and a high level of quality.
IN DECEMBER 2012, ORIGALYS BECAME:
OrigaLys ElectroChem SAS
With a minimum of 30 years background and knowledge in electrochemistry and a worldwide distributor network, the company is able to provide a complete range of:
Instruments: Potentiostat-Galvanostat-Impedancemeter, Multi-Potentiostats and Rotating Disc Electrode
Software
Electrode
Tips
Accessories
---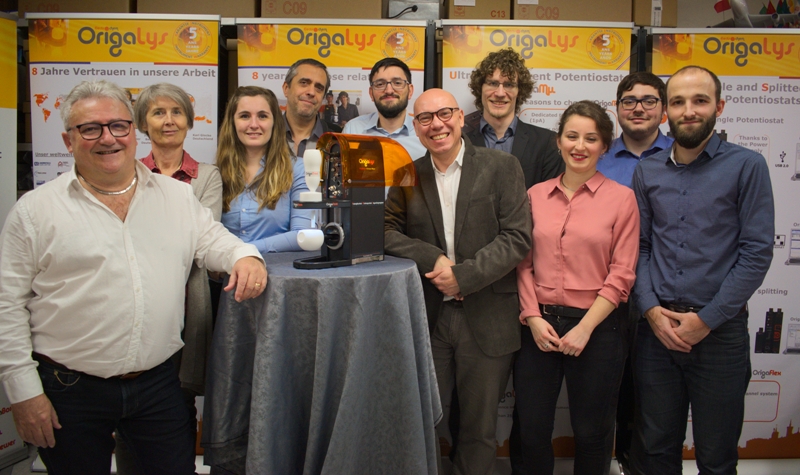 OrigaLys ElectroChem SAS is member of AXELERA,chemistry and environment French competitiveclusterfrom Lyon and Rhône-Alpes throughout the world.
"The ambition of AXELERA is to build a global industrial and scientific network that combines Chemistry and the Environment. Thus, the cluster brings together companies, research centers and educational institutions in order to develop synergies and cooperative efforts." (Abstract from AXELERA web site)
OrigaLys ElectroChem SAS is also member of FABRILABO, Association of Laboratory Equipment Manufacturers and Traders.
"FABRILABO's ambition is to gather all companies involved in the laboratory industry, to promote their products in France and throughout the world."
It is an interface between laboratory suppliers and purchasing officers.
Represents the industry towards public authorities and major international organisations.
Provides for a liaison with other French and foreign professional associations.
Runs national shows (Salon du laboratoire, Mesucora, etc.).
Organises group attendance to international events
Participates to AFNOR, CEN, and ISO standard committees.
Is an active member of EUROM (European federation of precision mechanical, optical industries and laboratory instrumentation). FABRILABO is also a member of FIM (Federation of Mechanical Industry)." (Abstract from Fabrilabo web site)
Les Verchères 2
1er étage
62A avenue de l'Europe
69140 Rillieux-la-Pape
France
---
Tel : 09.54.17.56.03
Fax : 09.59.17.56.03
Mail :contact@origalys.com
---
Monday to Friday:
09:00-12:00/14:00-19:00
09:00 AM - 12:00 AM / 02:00 PM - 07:00 PM